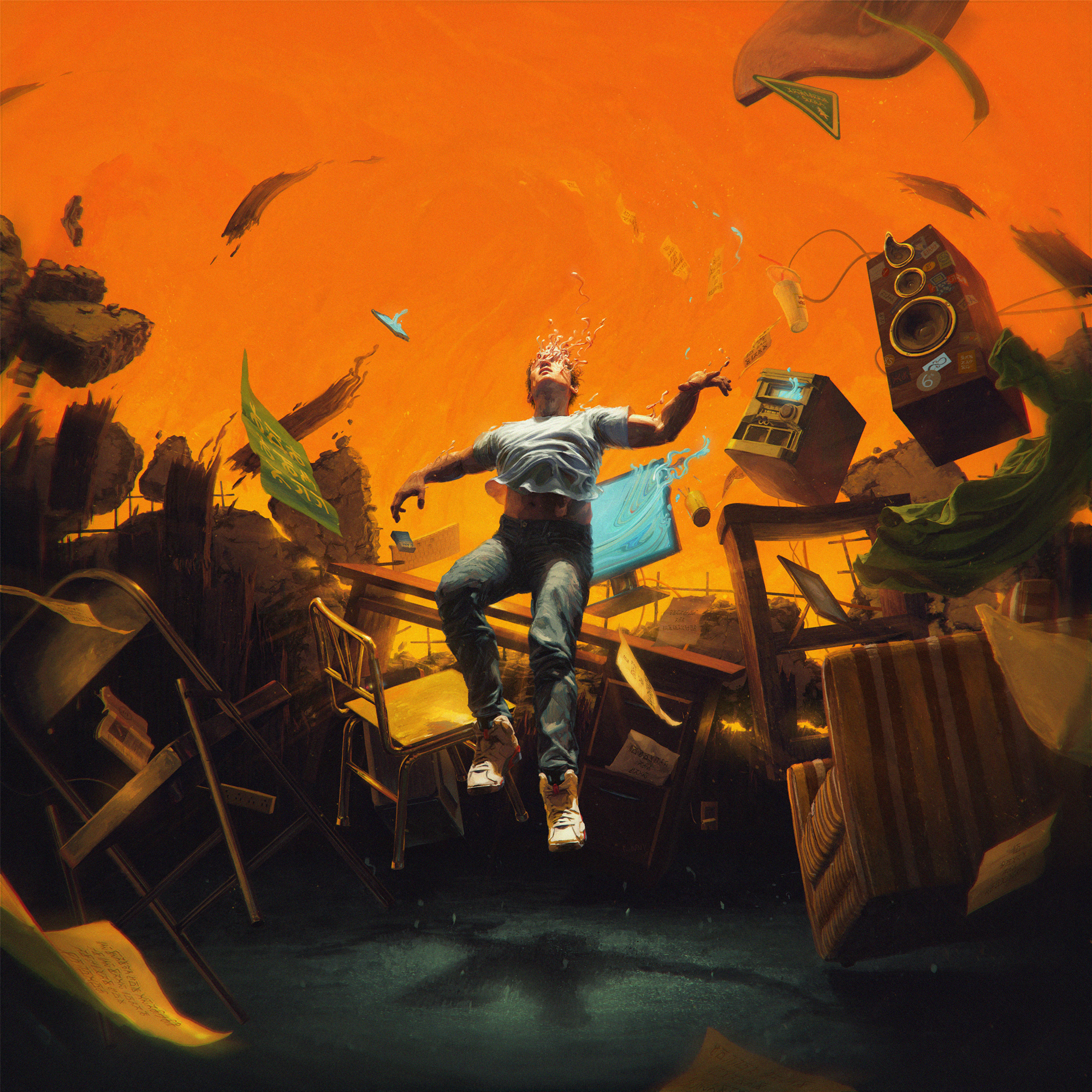 Logic sent Hip Hop Twitter into a frenzy a couple of weeks ago announcing that not only would he be dropping an album very soon, but it would also be his last. An album that would be the sequel to his debut Under Pressure entitled, No Pressure. Now, look. I have a huge love/hate relationship with Logic. I loved his first two albums, Under Pressure and The Incredible True Story, but ever since then, his albums have been kind of odd to me. While the production keeps getting better and better, Logic's rapping and lyrics have slowly gotten worse. Probably most evident on the song 1-800-273-8255, which, I understand the purpose of the song. It's trying to shed light that suicide isn't the solution to anyone's problems. But god damn it the chorus just makes the song lose all validity for me. Nothing pisses me off more than hearing that one line, "Who can relate? WOOOO!!" There's also Supermarket which is an audio component to his book of the same title and if the book is anything like the album, it's not worth buying. The album is full of 90's rock rip-offs and terrible singing with Logic trying to channel his inner Red Hot Chili Peppers at times. And then there was Confessions of a Dangerous Mind. Jesus Christ. The album featured some of his worst music to date with terrible bars, very cheap and bland production, and just really weird choices all around. A central topic was how he never listened to haters and he's so much better than all of those haters and ever since that project dropped, I've been hoping and praying that he finally listened to some of the criticism so he can make a more quality project. Or, at the very least, try to do something that could help him redeem himself and leave the rap game on a good note. It's safe to say, we got that.
Logic in a promotional image for Supermarket.
The album is 15 songs, almost an hour-long, but never does it get boring. I'm really happy that Logic paired up with No I.D. again because when these two get together, magic happens. I don't think there's one terrible track on here, there's not one bad beat on here, and everything is executed perfectly. There's a lot of energy and a lot of charisma on this album which is something that Logic has been lacking in previous projects. The album starts with the aptly titled, No Pressure Intro, and, simply put, it's an MF DOOM intro. Logic is popping in at random times over a spoken word piece. Introducing himself, No I.D., and even finding time to say that he hasn't met a person who didn't like The Incredible True Story. When he starts rapping, his wordplay is great. I love the line where he says "Gangsters put that heat to your head like a hairdresser."
The first half of the record is packed in with banger after banger and it doesn't really slow down until after the 7th song. There's the song Hit My Line with a smooth Tyler, the Creator sample, some woozy piano, and a great chorus. I love Logic's delivery during the verses. It almost sounds like he's preaching to a choir rather than trying to rap. I also really love the song Celebration. No I.D.'s production sounds like something he would've put on 4:44 by Jay Z. There's this noisy choir sample, some really sick drums, and the only guest verse on the album courtesy of Silas, who I didn't know existed until I listened to this album. I do really really like his verse though. I like how strong he comes in rapping about how he was hyped up to sit in the nosebleeds of an arena for a basketball game and now he sits courtside, "still posted in my white tee." Logic's verse is also pretty great with some one-liners that still stick out to me every time like when he says "I get under people's skin like stitches." I also really love the line "What's rap without a little braggadocio" right before he raps about his successes, his mansion, his family. I couldn't love it more. The song Soul Food II is also great. It's might me Logic's most charismatic performance on the album. I just smile hearing him do his thing. Again, the track is filled with one-liners like the hilarious line "Hurricane Bobby in the studio blowing trees." I also really like the line "Your new sh*t ain't as good as your old sh*t / 'Til your new sh*t is your old sh*t" which is a recurring theme in rap music. Nothing is ever as good as that one album. And Logic touches on that on of my personal favorite songs, DadBod.
I love how Logic sort of dismantles the claim that rappers always have to be rapping about drugs and girls and lavish lifestyles, pretty much saying, "You wanna know what my life is really like? This is what it's really like." He takes us through his daily routine. He wakes up, he wakes his son up, feeds him, then usually has groceries to get or errands to run. And he even acknowledges that there's gonna be people who don't like him rapping about this saying near the end of the third verse, "
Is this want you wanted, everyday life material? /
I'm not a kid anymore and be sure sh*t's boring." I respect it a lot. Everyone is gonna grow up, everyone is gonna mature, Logic is never gonna be the same Logic he was when he recorded this album's predecessor or The Incredible True Story. He's been married, he's had a kid. He can't keep rapping about clubbing and getting turnt when that's not the life he's living anymore. I also never fail to laugh at the line in the first verse where he says, "I love my wife like I am Chance."
The second half of the album is reserved for more moody tracks like the song Dark Place since we can't have a Logic album without him taking a deep dive into his depression and bad thoughts. (And I don't mean that in a bad way, there's just a song like this on every one of his albums.) I do really like this song as it doesn't come off super corny like other songs in this vein, he sounds a lot more genuine here. Rapping about how he constantly wonders if the strain his career puts on his mental health is worth it. He also touches on how the internet hasn't helped matters, saying that he's tired of googling himself just to confirm that he's worthless. Also in this verse, he talks about how his fame has messed with his creative process and shares a sentiment that I've seen in common with a lot of musicians in that, it's hard to make music for a large audience now and he second-guesses himself a lot more now. It was easier for him when he was just making music for himself. I also like the sort of twist at the end where the song doesn't end happily, rather Logic saying that fame and money won't solve all of your problems and that he's never been perfect, even though he's tried to be many many times.
I love how this album ends with a switch from the "
No Pressure
Programming" to the "
Ultra 85
programming." The song Amen, which kicks off that portion, might be a little cheesy sure, but it's so god damn catchy. I love the piano sample that I immediately recognized from Tyler, the Creator's interview with Zane Lowe. It's just an awesome song to end the album on.
As always, no album is without its flaws and if you thought I was gonna come out of a Logic album with no complaints, you're wrong, because while there is a lot that I love and while I do think it's a fantastic comeback, there are a few things on this album that left a sour taste in my mouth, however, I came to expect them since they are recurring things on Logic's projects. The first complaint comes in the song GP4 which has a guest feature from the one and only, Bobby Hall, also known as Logic's dad. Who has provided great vocal contributions such as the intro to Logic's song Homicide explaining why his son is the greatest in the world. I'm cringing thinking about it. His contribution to this track is no different. He doesn't ruin the song but his son certainly didn't need to waste studio time recording his parts. Another thing that was a recurring theme was once again, Logic biting other flows from his contemporaries. For example, I can't help but hear a Vince Staples flow in the chorus of DadBod, or a Chance the Rapper type delivery during the verses of Hit My Line. Besides those two major gripes, I don't have much else negative to say. This is the album I've been waiting for Logic to drop and I'm so happy he can end his career on a really positive note.