Amid rumors of the group's breakup, BROCKHAMPTON has treated us to another full length album. For those who aren't familiar with the group, the self-proclaimed "boy band" was formed in San Marcos, Texas in 2015 and has been pedal to the metal ever since. The SATURATION trilogy was released throughout 2017, followed by their major label debut, iridescence. While the latter didn't really wow me much, I still knew they had something special and their performance at ACL Fest last year almost turned me into a Kevin Abstract stan. The pure energy of their set was incredible.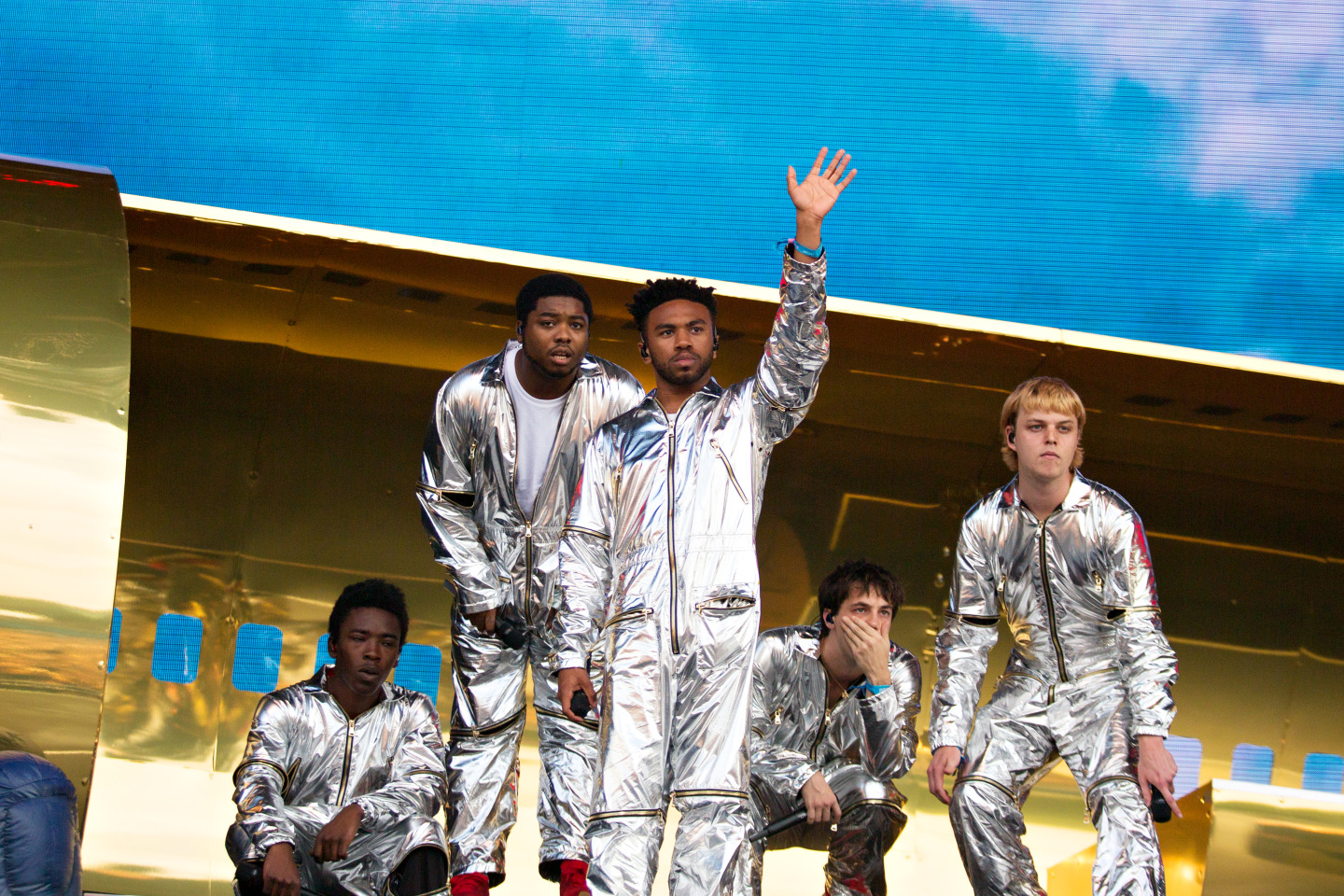 BROCKHAMPTON performing at the 2019 Governor's Ball at Randall's Island Park in New York. Kevin Abstract (center) is the group's frontman. (The Fader)
In this new album, the boys continue to do what they do best. Making damn good rap music. I have to say, this may be my new favorite BROCKHAMPTON album. It's a huge step up from iridescence both production-wise and musically. The beats on this thing are great, the production is amazing, and the use of bearface is very pleasing.
The opening track NO HALO has really grown on me since it was released as the fourth single. There's an interesting acoustic guitar driven beat that I've slowly fallen in love with and this amazing harmonized chorus that takes you through a range of emotions. Then, in comes SUGAR.
For this album, I'm drawing parallels to IGOR by Tyler, the Creator, because once this album gets going, it doesn't stop. Just track after track of pure greatness. On SUGAR, Ryan Beatty comes in with a beautiful chorus that almost sounds like something from a James Blake song. The songs BOY BYE and ST. PERCY are both pure energy with amazing beats. BOY BYE might be in the running for my favorite song on the album.
Another song I need to get into is
DEARLY DEPARTED,
because no review of this album could be complete without talking about this song.
This song probably has the deepest subject matter in the whole album as it talks about former member Ameer Vann who was kicked out of the group last year due to allegations of sexual misconduct. The song features Kevin, Matt, and Dom each taking turns describing their feelings towards Ameer's departure. In his verse, Dom details how Ameer set up one of his friends to be robbed and ends his aggressive verse by slamming his microphone to the ground and throwing his headphones across the studio.
In the end, I am very, very pleased with this album. It's a big step up from
iridescence and, for some reason, this album made me super proud of the boys. I'm excited to see where their creativity goes next.
BROCKHAMPTON hits the road on the Heaven Belongs to You tour at the end of October. Slowthai will support the band on tour. Tickets are on sale NOW at brckhmptn.com/dates
Tour Dates:
10/26 - Vancouver, BC @ PNE Forum
10/27 - Seattle, WA @ WAMU Theater
10/30 - Salt Lake City, UT @ The Union Event Center
11/1 - Phoenix, AZ @ The Van Buren
11/3 - Las Vegas, NV @ Day N Vegas*
11/5 - Fresno, CA @ Rainbow Ballroom
11/8 - Palo Alto, CA @ Frost Amphitheater
11/9-11/10 - Los Angeles, CA @ Camp Flog Gnaw Carnival*
11/13 - San Antonio, TX @ The Aztec Theatre
11/14 - Dallas, TX @ The Bomb Factory
11/15 - Austin, TX @ ACL Live at The Moody Theater
11/17 - New Orleans, LA @ The Fillmore
11/19 - Miami, FL @ The Fillmore
11/20 - Altanta, GA @ Coca-Cola Roxy
11/22 - New York, NY @ Hulu Theater at Madison Square Garden
11/24 - Boston, MA @ Agganis Arena
11/25 - Washington DC @ The Anthem
11/27 - Philadelphia, PA @ The Fillmore
11/29 - Toronto, ON @ Coca-Cola Coliseum
11/30 - Detroit, MI @ Masonic Temple
12/3 - Minneapolis, MN @ The Armory
12/4 - Milwaukee, WI @ Eagles Ballroom
12/6 - Chicago, IL @ Aragron Ballroom
12/9 - Denver, CO @ The Mission Ballroom
12/13 - Los Angeles, CA @ The Hollywood Palladium
*denotes a festival date