I considered scrapping this list, but you guys asked for it, so I figured, why not. It's only three months late but who cares. The past 10 years of music have been great, with each year topping the year before. Many artists have came out of nowhere and exploded within these past few years and have continued to create amazing music. So without further ado, here are the 20 best albums I listened to over past 10 years.
20. 1989 - Taylor Swift
In my opinion, this album is peak Taylor Swift. I don't think she'll ever make a better album than this. Her first attempt at pop music was originally met with controversy (the biggest country star going pop?) but it has worked out beautifully. The songs on this album are lush and very well produced. We all know the singles by heart, the songs like Blank Space, Bad Blood, and Shake It Up, but the deep cuts on here are even better. I Wish You Would is loud and in your face with booming drums and a guitar lick playing over and over, Clean is an excellent closer, with tons of delay on Taylor's voice, a super stripped back instrumental, and a big chorus. This album deserves all the milestones it achieved and is one of the best debut pop albums I've ever listened to.
19. Trench - Twenty One Pilots
In their best album yet, Tyler Joseph and Josh Dun take us to the world of Dema. A place that the narrator of our album used to love, but now sees as just a system that he needs to escape. The album covers their usual genre-hopping basis, from the loud, heavy Jumpsuit to the fiery rap of Levitate and Pet Cheetah to the poppy Morph and Legend. This album features the best production of any Twenty One Pilots album so far, all handled by Tyler and former MUTEMATH frontman Paul Meany. This album is one that you can't skip around on, you have to listen to it back to front. Jumpsuit and Levitate are a solid one-two punch to kick off the album. Jumpsuit starts off with a distorted bassline and pounding drums, then quiets down for a piano-led bridge before the bass comes back in with Tyler screaming his head off. It transitions into the beat of Levitate which has incredible production. The beat features pitched vocals, synths flying all over the place, and big, booming drums. Tyler's flow on this song is also pretty damn good. Another huge highlight on this album is the track Neon Gravestones which addresses suicide in popular culture, with Tyler saying that he could boost his reputation if he killed himself, and how if he does give in, the fans shouldn't mourn his loss, that they should just move on. This is the best Twenty One Pilots album so far, so if you haven't liked their albums before, you will like this one.


18. Good Faith - Madeon
Madeon is a man I didn't know existed until just a few months ago, but I'm so glad I found him. This album isn't just your standard, cheesy EDM album, it's a lot more thought out than that. From the chopped up choir samples to the killer bass lines to the diverse sounding drums, this isn't just an album that you can rage too on any given weekend. Dream Dream Dream is probably the best opening song I heard on any album last year. It's just so grand and cinematic and I love it. Nirvana/Mania is a great two-part track and a major highlight on this album. Nirvana sounds like Madeon got excited and just started pounding away on a synthesizer while Mania is full of pounding drums, loud cymbal crashes, and swells that never really reach a climax. No Fear No More has the funkiest beat on the album. The bass line is killer, the synths and samples in the background mesh together so well on top of Madeon's autotuned voice. The chorus explodes into this vocal sample with piano, loud synths, and more cymbals. I'm very excited to see where Madeon goes next because this album showed his continued potential to make great electronic music.
17. How Did We Get So Dark? - Royal Blood
I cannot believe that this much sound comes out of two guys. They produce more sound than most 5 or 6 piece bands I know. On this album, the British duo finds a more polished sound but at the same time, rocks harder than their previous self-titled album. Every song on this album is so loud and thunderous and I love it. The first three songs do an excellent job of kicking off the album. The title track, which opens the album, features an awesome breakdown and a choir singing in the latter half of the track. Lights Out is a stadium jam with a huge, explosive chorus, and an awesome bass solo. And I Only Lie When I Love You is the heaviest song on the album, with perhaps the best bass performance on the album. Where Are You Now? is another huge highlight on the tracklist, starting off with just some drums and a little bassline before pausing for a moment, then all hell breaks loose. Distorted and pitch-shifted bass, Ben Thatcher beating the drums like they owe him money. The chemistry between these two guys might be what makes this album so great.
16. El Camino - The Black Keys
This album is an even better example of great chemistry between members of a duo, even though this album features more than just guitar and drums. In their strongest and most cohesive album yet, The Black Keys take us back to the days of 70s rock with their vintage, fuzz heavy, sound. Just 38 minutes of solid rock music. Lonely Boy is an energetic start to the album with a great riff and a catchy chorus. Dead and Gone has a solid bass line, some cool bells throughout the song, and a pretty great guitar solo right in the middle of it. Gold on the Ceiling is even better. The guitar work on this song is phenomenal with quite possibly the best solo on the album. It's a song they wrote with the intention of tearing up whatever venue they're playing at. Little Black Submarine is my pick for the best song on the album. The first half of the song is singer Dan Auerbach pouring his heart out on top of an acoustic guitar with a line that still sticks out to me every time I hear it. "I should've seen the glow, but everybody knows that a broken heart blind." The second half of the song is where everything goes crazy. Distorted guitars come in, drummer Pat Carney starts going crazy, the energy at the end is nuts. Other highlights of the album include Money Maker with an awesome, explosive chorus, and Sister, which kinda calls back to their album before this, Brothers with a great bassline and a bit of slower pace. While they have already established their place in the indie rock scene, dropping this album put The Black Keys up in the elites of the genre.
15. Rodeo - Travis Scott
Houston born rapper Travis Scott has come a long way. Before he was selling out arenas and headlining the biggest festivals in the US, he was just trying to make it as another Kanye protégé. With this album, he created the wave of psychedelic rap music with effects that can still be seen in the rap game today. This album has the Kanye influence there too, with tons of guests and Travis putting them together as pieces of a story rather than just having a bunch of random guests pop up every now and then. Every feature on this albums serves a purpose and isn't just there for an easy paycheck. The only issue I really have is the really have with this album is its length. If you replace Wasted with Maria, I'm Drunk and end the album at Antidote, this album would be 10 spots lower on this list, but anyways, let's talk about why I love the album. The opening song Pornography is trippy with some spaced out drums, some delay on Travis's voice before a beat switch picks up the mood with Travis starting to flow a little bit more while the background is filled with heavy bass and some guitars. Oh My Dis Side features Quavo, who comes through with an incredible performance dropping some ad-libs in the background before spitting a verse of his own. 3500 is even better with features from 2 Chainz and Future. Future's contribution is perfectly placed with him singing acapella for a little bit before the beat comes in and makes me hit a stank face. The chorus is this beautiful, distorted mess of guitars, bass, and Travis yelling in autotune. The last track I want to single out is 90210, which is without a doubt the best song he's released on any project so far. The first half is trippy and psychedelic with Mike Dean's guitars wailing away while Travis sings his heart out, and the second half is better with a guitar solo and some crisp drums leading into a great verse by Travis. As I said, if you end this album at Antidote then replace Wasted with Maria, I'm Drunk this album is 10/10 and is probably at the 2 or 3 spot on this list.
14. 4:44 - Jay Z
This album shows Jay Z at his most honest and vulnerable. The album starts with the moody Kill Jay Z, with Jay wasting no taking shots at himself. The song serves as Jay looking at himself in the mirror and trying to rid himself of his bad past and shed his ego. The beat features some neat synths and a siren blaring at various points of the track. Some of the bars on here are pretty great too. For example, "But you got hurt because you did cool by 'Ye / You gave him 20 million without blinkin' / He gave you 20 minutes on stage, f*ck was he thinkin'? '
F*ck wrong with everybody?' is what you sayin" referencing Jay's interesting relationship with Kanye West. There's also some great wordplay in reference to his altercation with Solange where he says, "Let go your ego over your right shoulder / Your left is sayin', 'Finish your breakfast!' / You egged Solange on / Knowin' all along, all you had to say you was wrong." And perhaps the most brutal line of the song, "In the future other n*ggas playin' football with your son," referencing Russell Wilson being a father figure to Future's son after Future and Ciara broke up. The Story of O.J. is a fantastic political commentary on race in America while also talking about his financial successes and how he is using that success not as a flex, but as a way to benefit his kids, at one point saying, "I bought some artwork for one million /
Two years later, that sh*t worth two million /
Few years later, that sh*t worth eight million /
I can't wait to give this sh*t to my children."
Elsewhere in the tracklist, Caught There Eyes has a reggae type beat with a great chorus compliments of Frank Ocean. The title track sees Jay speaking as bluntly as possible about his infidelity rumors, with the track serving as an open apology touching on him and Beyonce's background, how they've had these issues before, and how they could affect their kids. BAM featuring Damian Marley serves as the polar opposite of the title track with Jay's ego going full force. And Legacy is a grand closer, with a chopped up soul sample and Jay speaking about the legacy of the Carter last name. I wasn't able to listen to this album until late last year due to the fact that it wasn't on Spotify, but now that it's here, I wish I had it the whole time.
13. Wasting Light - Foo Fighters



Much like 1989, I don't think Dave Grohl and his Foo Fighters will ever make a better album than this. An album full of loud guitars, pounding drums, and Dave Grohl proving his greatness once again. This album has a unique approach as the band recorded it at Dave's house, with Dave saying, "

rather than just record the album in the most expensive studio with the most state‑of‑the‑art equipment, what if Butch and I were to get back together after 20 years and dust off the tape machines and put them in my garage? We've recorded an album somewhere where no‑one has ever recorded before. The only person that's recorded in my garage before is me for sh*tty demos that I've done for the last two records." The album starts off with that raging Bridge Burning which has an incredible riff, a great performance from the whole band. The verses start off with everything going away while Dave strums along and screams, "THESE ARE MY FAMOUS LAST WOOOORDS!" and a huge wall of noise comes and hits again. It does a great job of setting the tone for the album. Rope is a little more complex but it's really good. The track starts with some delayed guitar before hitting an incredible groove. Taylor Hawkins drum track on this song is nuts. White Limo is another rager in the same vein as Bridge Burning. The energy of the song is insane and I don't know how Dave still has a voice after it. He's screaming his head off the whole time. These Days starts off soft but slowly builds into a huge chorus. The lyrics speak on the passage of time and how it's moving faster than we can control. The closing song, Walk, is in the same vein. The lyrics on this song speak of rebirth and wanting to restart a failed relationship, with Dave saying in the chorus, "
Learning to walk again /
I believe I've waited long enough /
Where do I begin? /
Learning to talk again /
Can't you see I've waited long enough? /
Where do I begin?" It's a great wrap up to the band's best work since 1997's The Colour and the Shape, and while they might be a generic rock band, this album proved that they can be great when they really want to be.
12.
Joy as an Act of Resistance - IDLES
Even though lead-singer Joe Talbot swears "We are not a punk band!," this is a fantastic punk album. The Britsh outfit comes through with a super angry and pissed off project that is pedal to the metal the whole way through. Colossus kicks off the album in a dark, slow, and moody tone. After the first chorus, the track picks up a little bit with a little bit more guitar, heavier drums, and a more fierce tone from Talbot. The song pauses around the four-minute mark before all the instruments come back in an uptempo manner. Talbot's lyrics on this half of the song set the tone for the rest of the album, condemning homophobia and toxic masculinity, with Talbot singing, "
I'm like Stone Cold Steve Austin /
I put homophobes in coffins.
" Never Fight a Man With a Perm, starts off with screaming guitars, loud bass, and pounding drums. After the first verse, all the instruments give way besides bass and drums. Talbot sings a few lines before drummer Jon Beavis counts off and everything comes back with fury. Talbot is screaming, "CONCRETE TO LEATHERRR!!" guitars are going crazy, and there still manages to be awesome drum fills. The second verse continues on a takedown of toxic masculinity, with Talbot singing, "
Me, oh me, oh my, Roy /
You look like a walking thyroid /
You're not a man, you're a gland /
You're one big neck with sausage hands!"
Danny Nedelko is a song that Talbot says is about, "The greatest thing to happen to this sh*thole of an island, IMMIGRATION!" The pre-chorus and chorus are incredibly written in a sort of cause and effect pattern, with Talbot singing in the pre-chorus, "
He's made of bones, he's made of blood /
He's made of flesh, he's made of love /
He's made of you, he's made of me /
Unity!" and in the chorus saying, "
Fear leads to panic, panic leads to pain /
Pain leads to anger, anger leads to hate." The last song I want to single out it the song Samaritans, which is a little heavier than the rest of the songs on the album but once again, it angrily tackles toxic masculinity, saying that a mask of masculinity is wearing him and going through a series of things boys are always told, singing "
Man up /
Sit down /
Chin up /
Pipe down /
Socks up /
Don't cry /
Drink up /
Just lie /
Grow some balls, he said." which eventually leads to the funniest lyric of the whole album, "
I kissed a boy and I liked it!" I really hope a new IDLES record comes sooner rather than later because these guys rock hard!
11. "Awaken, My Love!" - Childish Gambino
Up until this point, everyone thought Donald Glover's musical side-gig, Childish Gambino, was just another corny rapper that his fans loved, but no one else really got the point of. This project was a reinvention of sorts, something completely different that no one saw coming. Bars are traded for excellent singing, trap drums are traded for more crisp, 70s inspired percussion, and hard synthesizers are traded for psychedelic guitars and soft keyboards. All compliments of Ludwig Göransson, the producer of this album, who did a fantastic job with every aspect of it. The opening song, Me and Your Mama is one of the best opening songs I've listened to on a hip hop album. It starts of with a choir singing over this airy instrumental for about the first minute before some guitars and bass make a grand entrance with Donald almost screaming over the song, including the infamous line, "I'M TELLING YOU LEEEEET MEEEEE IIIIIIN, TO YOUR HEARRRRRT." Have Some Love is a little bit slower but still groovy as hell. Another choir led chorus, a funky breakdown in the middle of the song, these opening two songs set the tone really well. Boogieman is a little bit more uptempo but still groovy as hell. The song is an interesting take on racism with Donald singing in the chorus, "
With a gun in your hand, I'm the boogieman." The outro of the song is so damn good. There's three different guitar solo's in the background, Donald is laughing in a pitch-shifted way to where it seems scary. Riot is the most fun song on the album. It's upbeat, energetic, and makes you wanna get on your feet and dance. With an awesome call-and-response chorus complemented by some incredible guitar work, this song is one of the major highlights. Redbone is a song we all know and love. Donald's performance on the song is so good, and the song itself is super sexy. To be completely honest, I never really cared for this song until I watched this video of Ludwig making the song from scratch, it added a whole nother level of appreciation for me. Terrified is the last big highlight of the album, as it's the song that made me a fan of Donald's music. It sounds like something out of a horror movie at times, with Donald singing his heart out while there are some soft drums and guitar during the chorus. At the time of publishing this, we've been waiting for a new album from Donald for 3 and a half years, and after seeing him live last October, the wait seems even longer. No one knows what he's gonna do, but if he keeps going in this direction, I won't be upset.
10. DAYTONA - Pusha T
Stylistically, this album is a polar opposite from "Awaken, My Love!" It's straight trap music at it's best. At 7 songs long, clocking in at 21 minutes long, there is no room for filler, with Pusha saying, "Man, if we can't kill you in seven songs, we don't really need to be doing the music. G.O.O.D. Music is always known for going against the grain. I feel like right now, everyone has 20 songs on their album, 18 songs on their album. And it's like, for what? With us, you know it's quality over quantity. That's what we about." The opening track, If You Know You Know, starts off kind of weird, and mysterious, with Pusha singing over some trap hi-hats and wasting no time referencing cocaine. After singing the title, the beat drops in. There's a chopped up sample in there, some horns, and hard drums playing while the bars keep pouring in, with Pusha saying, "A rapper turned trapper can't morph into us /
But a trapper turned rapper can morph into Puff," and, a little bit later spitting, "
Where were you when Big Meech brought the tigers in? /
'Cause I was busy earnin' stripes like a tiger's skin." The Games We Play has another awesome beat with some more horns, guitar, and more vintage sounding drums. Once again, the bars come by the dozen, saying,
"
Stood on every couch, in the A at the black party /
No jewelry on, but you richer than everybody /
You laugh a little louder, the DJ say your name a little prouder /
And we don't need a globe to show you the world is ours." The third verse, however, trumps the rest with so many quotables in the section, with Push saying, "
With Ye back choppin', the cars and the women come with options /
Caviar facials remove the toxins /
This ain't for the conscious, this is for the mud-made monsters /
Who grew up on legends from outer Yonkers /
Influenced by n*ggas straight outta Compton." I'm getting hype just reading these god damn.
The last huge highlight of the album is the song What Would Meek Do? featuring the album's producer, Kanye West. Ye's verse is actually a pretty great moment of self-awareness, with him starting off his verse saying, "Poop! Scoop! Whoop! Whoopty-Whoop!" before ask the listener tons of questions, including, "If you ain't drivin' while black to they stop you / Will MAGA hats let me slide like a drive through?" This album kicked off one of Yeezy's best summers yet and I can't think of a better album to represent The Wyoming Sessions than this.
9. good kid, m.A.A.d. city - Kendrick Lamar
This album was the start of a string of greatness for Kendrick Lamar. This album is Kendrick reflecting on growing up in Compton, and the mischief he would get into. The album's tracklist doesn't play into the narrative too well, but when put in narrative order, the concept comes front and center. In this order, the album starts with The Art of Peer Pressure, with Kendrick saying that him and "the homies" were "
on a mission for bad b*tches and trouble." The track also shows them escaping a robbery and Kendrick being in a drug-induced state of paranoia and ends with the group dropping Kendrick off at his house so he can borrow his mom's van to go meet up with his love interest, Sherane. The track named after her shows Kendrick on his way to meet her and introducing her to the listener, saying that he met her at a house party and that, "
She had the credentials of strippers in Atlanta." He continues by talking about the struggles of getting to her house, saying that he needs to fill up his mom's van but he's too pre-occupied with getting to her house, and when he finally does get there, not only is he met by two hooded men, he's also met with a call from his mom. The story then goes into the song, good kid, with Kendrick looking back at the events that unfolded, saying he got eaten alive and realizing that he needs to get out of the hood. Pharrell's chorus on this track is silky smooth and the beat is kind of spooky and ominous. m.A.A.d city is a banger that we all know and love, but upon further inspection, the song is pretty deep, with Kendrick telling us right off the bat, "
This is not a rap on how I'm slingin crack or move cocaine /
This is cul-de-sac and plenty Cognac and major pain." The song talks about Kendrick witnessing a murder at 9, and getting fired from his job after being convinced by his buddies to rob the store he worked at. Money Trees is one of the most calming songs on the album. The beat is killer and the rapping on the song is even better. The song recaps everything that's happened in the album so far. It also features the best verse Jay Rock has written in his career so far. Swimming Pools is a very deceiving song. For the casual listeners, it's a party banger with a great chorus, but for those invested in the story, it's a really sad song. The song shows Kendrick talking about his family's trouble with alcohol, and how if he doesn't listen to his conscience, he will be history. Sing About Me, I'm Dying of Thirst does a good job wrapping up the album. It's a 12-minute masterpiece that goes through many shifts and phases before K. Dot sheds the hood life, accepts Jesus, and becomes Kendrick. This is still my favorite Kendrick project to date. The beats, the bars, it's so great. If you ever have time to sit down, and really absorb the project, do it. It's better enjoyed through a good pair of headphones.
8. IGOR - Tyler, the Creator
Tyler, The Creator has grown so much since he originally burst onto the scene as a member of rap collective Odd Future, and I couldn't be happier with his growth. This album is another one in the same vein as "Awaken, My Love!" where Tyler doesn't rap as much and instead, focuses more on the production of the songs rather than spitting bars. IGOR'S THEME does a good job of setting the tone. It's kinda moody, kinda mysterious, and leaves you wondering, "What am I about to listen to?" EARFQUAKE is a song of heartbreak disguised as something happy, with Tyler saying the phrase, "Don't leave, it's my fault." over and over again. It also begins the narrative, with Tyler describing how this love interest of his makes his earthquake. I THINK is the best song that Kanye West has never written. Glistening keyboards, banging bass, a soul sample in the chorus. The Ye vibes are strong. In the narrative, this song is Tyler realizing that he's catching feelings, with him and Solange singing in the chorus, "I think I've fallen in love /
This time I think it's for real /
How can I tell you?" RUNNING OUT OF TIME is a little slower, but reinforces the narrative a little more, with Tyler realizing he is in a race against the clock to start this relationship and shows the tension in his love life. He's also trying to make this love interest realize who they truly are, as Tyler is trying to date this man rather than have a girl take his love interest away, with Tyler singing, "
Take your mask off /
I need her out the picture /
Take your mask off /
Stop lyin' for these n*ggas /
Stop lyin' to yourself /
I know the real you." NEW MAGIC WAND can only be described by one word. Banger. The beat features grimey bass and the sound of wooden spoons banging on pots and pans. The song is about the love triangle Tyler is trapped in, with Tyler starting the song saying, "
I need to get her out the picture /
She's really f*ckin' up my frame." and saying in the second verse, "
Don't call me selfish, I hate sharin' /
This 60-40 isn't workin' /
I want a hundred of your time, you're mine." The
song talks about how Tyler would go as far as killing this girl to get with the man he wants. And if he can't pick a side, he'll kill both of them. PUPPET features the best production on the album and a feature from Kanye himself. The rap verses on the song are amazing and is a quick follow up to events that unfolded in the previous track, A BOY IS A GUN* where Tyler gives up on love, but decides to try again. ARE WE STILL FRIENDS? still remains as my favorite song on the album. It's just such a sensory overload and it might be the best thing Tyler has written to date. The sample on the song is great and Jack White and Pharrell's features are incredible. Jack contributes a ripping guitar solo during a little instrumental break while Pharrell comes through with a great, introspective verse. Not only is this the best album I listened to last year, it's the best break-up album on this list.
7. A Moon Shaped Pool - Radiohead
The fact that Radiohead could still come through with an album this solid this late in their careers is amazing. This album is easy on the ears, but very heavy on the heart. Burn The Witch is a moody, kind of haunting opening. There are electronic drums complemented by strings arranged by guitarist and evil scientist composer Jonny Greenwood, who arranged all of the strings on this entire album. Daydreaming is one of the best songs on the album, which is a bold thing to say considering it's only the second song. The instrumental is incredible. Some driving piano, fluttering synths after the chorus. Even better is Thom Yorke's vocal performance on the song. It's so heartfelt and emotional, you can hear the pain in all of the words he sings. Ful Stop is unlike either of the two songs I've already mentioned. It starts off with some distorted bass and a drum loop before Thom's vocals come in. A little bit after the 3-minute mark, drums and guitar become a little more prevalent in the mix and are completely different vibe from the rest of the instrumental. They're jazzier and a lot more calming than the gritty bass and eratic atmosphere of the song. Identikit is another huge highlight on the tracklist. The song starts with some soft drums and a little guitar riffs that sounds like it could be in a summer commercial, but as the track progresses, the beat of the song is switched up. Not like the instrumental shifts into something different, like the literal count of beats changes. I highly believe that this song is Jonny's best work on the album, highlighted by an incredible guitar solo at the end of the song. Even better is the following track, The Numbers. The song is driven by an acoustic guitar and some piano. After the chorus, there's a little vocal sample before strings hit, that's where we transcend. The strings continue on through the second verse, which is probably the biggest political statement on the album, with Thom saying, "
We call upon the people /
The people have this power /
The numbers don't decide /
The system is a lie /
A river running dry /
The wings of butterflies /
And you may pour us away like soup /
Like we're pretty broken flowers /
We'll take back what is ours." The closing track, True Love Waits, has taken on such a different meaning since Thom's former wife, Rachel Owen, died of cancer. With Thom saying in the chorus, "Just don't leave." Radiohead continues to be as experimental and as inventive as they were when they first formed, and it's amazing to me that they still have this spark when they could easily phone in an album to make money from touring. I eagerly anticipate their next group effort.
6. Random Access Memories - Daft Punk
Daft Punk is no stranger to experimentation, so for them to put an album like this out wasn't surprising. What surprised me was how good it ended up being. Clocking in at an hour and 15 minutes, it never manages to get boring. It hits so many bases too, from straight rock songs like Give Life to Music and Get Lucky (ft. Pharrell and Nile Rodgers), to moodier, slower tracks like Game of Love and Within to straight-up synth pop in Instant Crush (ft. Julian Casablancas from The Strokes) and my personal favorite song on the album, Giorgio by Moroder. Give Life To Music is an incredible opening track. It goes from these giant bursts of distorted guitar, synthesizer, and cymbals to these chill verses of jazzy guitar, bass, and a great drum track. Giorgio by Moroder is a 9-minute masterpiece. The first instrumental bit is pretty simple. An arpeggiated synthesizer with a little flanger, some faint guitar, and a simple kick-snare drum beat. Around the 5 minute mark, Giorgio Moroder himself gives a little spoken word bit about how when you free your mind of what music has to be, you can do whatever you want, then things get crazy. First, there's a great passage of strings, then as soon as the drums hit, everything combines back together. The drummer is going crazy, the strings are reaching these beautiful crescendos, and the synth line is still buzzing away. Everything slows down for a bit for a little bass solo, then once again, everything comes back in. This time distorted guitars are thrown in the mix and they actually add a great extra layer to the song. Instant Crush is about as poppy as this album gets, but that's not a bad thing. The instrumental is pretty simple, just some electronic drums and some synth chords through the verses and chorus. There's also a pretty great guitar solo about halfway through the song. Julian's vocal performance on the song is pretty great, with a little bit of autotune to give it that electronic feel. The song Touch takes a little while to get going, but once it does, it's incredible. The instrumental features synths, some disco-flavored piano, and even some horns. Around the 5 minute mark, the song slows down and gives way to some strings and more spaced out drums. This album is probably the only album of this length that keeps me this hooked for this long. There are so many twists and turns that manage to keep me interested. It saddens me that this might be the last full-length project we ever get from the robots.
These last 5 albums are albums that I would consider 10/10. Or at least albums with very, very few missteps. I spent a lot of time trying to figure out where to place each of these albums because it is very tough to put some of these albums over the other. I think I got it down though. Here are the 5 best albums of the past decade.
5. My Beautiful Dark Twisted Fantasy - Kanye West
This album was "make or break" for Kanye. Coming in the heat of his (original) controversy with Tayler Swift, this album was needed for Kanye to set the record straight, and get back into a positive light in the pop world. It worked. The album features lavish production, Kanye's writing at it's highest point, and (mostly) amazing guest verses from everyone involved. The album starts off with Dark Fantasy, which, to this day is still the best opening track on any Kanye project so far. The beat is glamorous with glistening piano, some nice swells in the background. The chorus, sang by Bon Iver and Teyanna Taylor, sets a good pace for the song. CAN WE GET MUCH HIGHER! POWER is a song that you've heard if you've been to any sporting event ever. It's a banger that features these loud claps and a choir chanting in the intro before guitars, bass, and loud drums take over. The song shows Ye in a power trip, saying in the intro, "Screams from the haters got a nice ring to it / I guess every superhero need his theme music," and saying later on in the song a bit I love, "
At the end of the day, god damn it, I'm killing this sh*t /
I know damn well y'all feeling this sh*t /
I don't need your p*ssy, b*tch, I'm on my own d*ck." Monster is the first guest-heavy track on the album, with Bon Iver starting the song off in a kind of menacing way. We then get Rick Ross to introduce the song with a few bars before Kanye takes over for the chorus and first verse, with Ye immediately calling himself the best rapper of all time. Nicki Minaj's verse on the song is also surprisingly amazing. She goes through multiple changes of tone but they all work out well. Devil in a New Dress is easily my favorite song on the album. Soul sample in the background, some crisp drums with easily one of Kanye's best verses on the album, dealing with his lust and infidelity. A little bit before the 3-minute mark, the instrumental drops out and gives way to some piano and guitar, then comes Mike Dean's best work on the album with an amazing guitar solo that I don't think he will ever top. I this point, I didn't think the song could get any better, then Rick Ross comes in with one of the best verses he's ever written. Somehow, the next song, Runaway, is even better. A song about Kanye's arrogance and failed love attempts. The song starts off kinda shaky
but after the second chorus, things really pick up. The beat is met with some strings that add a beautiful touch. Then Pusha T drops an impressive verse with some great wordplay and an awesome flow.
Kanye comes through with an awesome verse after this about love and his mistakes in the past, saying, "
Never was much of a romantic /
I could never take the intimacy /
And I know I did damage /
Cause the look in your eyes is killing me /
I guess you are at an advantage /
Cause you can blame me for everything /
And I don't know how I'ma manage /
If one day you just up and leave." While Kanye has still stayed consistent ever since this album came out, this one is still the crown jewel. It ended an era of glamorous rap music as not too many popular songs today have the lavish beats and expensive production this album has.
4. Blonde - Frank Ocean
In one of the biggest middle fingers to the music industry, Blonde is a two-part album that shows Frank in a very vulnerable state. He falls in and out of love multiple times throughout the project and also explores themes of self-love and hate and his life growing up. The album starts with song Nikes. A song heavy on ambience, with echoed drums, some cute organs in the background. It sets the tone well. Ivy is a song that everyone needs to listen to if they've had their heartbroken. The lyrics see Frank reflecting on a failed relationship, explaining in the chorus that he could hate the lover now, and it's okay for the lover to hate him, but they both know that deep down, they're still on good terms. He continues in the first verse saying, "
If I could see through walls, I could see you're faking / I
f you could see my thoughts, you would see our faces." The guitar work on this song is awesome too, compliments of former Vampire Weekend member, Rostam
Batmanglij. Pink + White is a huge highlight in this half of the tracklist an even includes a feature from Beyoncé. The song talks about a person who left an impact on him who has likely passed away. The instrumental on the song is amazing too with some sharp drums, some keyboards fluttering in the background. Self Control is another big highlight, with probably the most psychedelic instrumental on the album. The first half is just some guitars and some faint bass. The second half, however, is something completely different. There are strings, a little more guitar, and some synth swells in the background too before Frank comes in with a refrain soaked in phaser, singing, "I, I, I know you gotta leave, leave, leave /
Take down some summer time /
Give us, just tonight, night, night." He says this once, then the song pauses, then the phrase comes back with more vocal layers and even more phaser. Nights is the song that splits the album in half, with a beat switch coming in right at the 30-minute mark of the album. The first half of the song is kind of upbeat and honestly kind of happy. The beat has pitched up guitars, some snappy drums, and a great flow from Frank. The beat switches into something a little more psychedelic with more trap influenced drums and a more introspective verse from Frank, talking about his rise to fame, and reflecting on the effects Hurricane Katrina had on him. White Ferrari is the last huge highlight on this album, with a very minimal beat, almost acapella. There's some acoustic guitars about halfway through but Frank's voice is mainly the only instrument here. His performance is incredible and makes me tear up everytime. Frank Ocean hasn't released anything full length since this amazing project, but I don't know what else to expect from the most mysterious man in music.
3. ...Like Clockwork - Queens of the Stone Age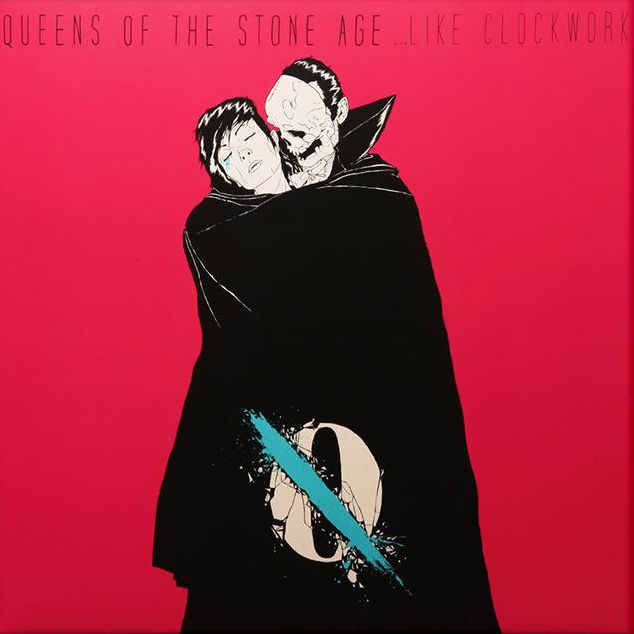 Josh Homme was in a very dark place when he started writing this album. He literally died during knee surgery and was bedridden for four months. In that time, he sank into a deep depression and those thoughts really reflect in this album. From the opening track, Keep Your Eyes Peeled, Homme ends the chorus by almost yelling, "If life is but a dream, then WAKE ME!" This album is the most cohesive on this list. The biggest lie I tell myself on a constant basis is, "Well, I'm just gonna listen to Keep Your Eyes Peeled then I'm gonna go back to my playlist," because every time the opener ends, I find myself listening to it cover to cover again. It has everything you could want in a rock album, from stadium jams in the songs My God is The Sun and Fairweather Friends, to more psychedelic tracks like Kalopsia, and downright dark and creepy songs like The Vampyre of Time and Memory and my personal favorite, I Appear Missing. The Vampyre of Time and Memory is a slow ballad led by a piano with Homme really thinking scary thoughts, opening the song by saying, "I want God to come and take me home." The guitar solos on this song are incredible, with guitarist Troy Van Leeuwen just wailing away on top of walls synth and bass. Kalopsia is a huge highlight on the tracklist with its airy instrumental that makes you feel like you're floating around. There's some echoed drums, spaced-out piano, and a little guitar lick before Trent Reznor and distorted guitars destroy the peace for a heavy chorus. After the chorus, it goes back to the peaceful vibe. It's such a great blend of peace and heaviness. I Appear Missing is a song that isn't from this world. I highly believe that it's the best song that Homme has ever written. The guitars on the song are fantastic, alternating between arpeggiated passages in the verses to distorted messes in the chorus. Around the 2:40 mark, everything starts spinning before cymbals crash and the guitars come back in. Then, a little bit after the 4-minute mark, the incredible guitar solo comes in. It goes from notes ringing out to something a little more complex as the song goes into double time. Homme wrote the song from the perspective of himself in the coma that he nearly didn't wake up from, saying in the first verse, "
Calling all comas /
Prisoner on the loose /
Description: The spitting image of me /
Except for the heart-shaped hole where the hope runs out." and saying in the chorus, "Shock me awake, tear me apart." The song also touches on themes of heartbreak, saying in the second chorus, "It's only falling in love because you hit the ground." and saying at the very end of the song, "
I never loved anything until I loved you." The pioneers of stoner rock are in fine form on this album, and I don't see them dipping in quality anytime soon. Homme is still gonna write awesome rock riffs and the band will always provide the help needed. I'm excited to see what they do next.
2. Lonerism - Tame Impala
Reflecting on the album in an interview with Uproxx, Kevin Parker says, "I listen to it and I just think it sounds cute because it's like, 'Oh my God. This kid doesn't know what he's doing." For someone who didn't know what they were doing, this album is as close to perfection as you can get. Endors Toi starts out with phased guitars, some synth, and drums before the first verse. The verses instrumentally are pretty bare, just some drums and some bass at the end of the verse. The lyrics show Kevin talking about sleep, and how it can be blissful if done right. After the verse, the instrumental plays for a bit before there's a pause and this beautifully disgusting fuzzy guitar comes in and elevates the track to another level. Apocalypse Dreams follows closely after. It starts off with some piano and a killer bass line. The chorus shows Kevin realizing that the world around him is changing and he's scared that he can't do anything about it, singing, "
Everything is changing? /
And there's nothing I can do /
My world is turning pages /
While I am just sitting here." After he sings that bit, the instrumental drops out and a lone guitar and synth play before everything comes back in. The beginning of the second verse has Kevin singing from a nihilistic point of view, asking himself, "
Well, am I getting closer? /
Will I ever get there? /
Does it even matter? /
Do I really need it?" The outro of the song is pure bliss. An octaved guitar, the piano still playing. It's a beautiful track. Mind Mischief is a song of Kevin taking signs the wrong way and being led on by his own false confidence. He realizes that this girl is special and must like him because she remembers his name, but the whole time, she was leading him on and leaves Kevin with no choice but to never guess at love again. Feels Like We Only Go Backwards seems to be the second part of that song, with Kevin saying in the chorus, "I got my hopes again, oh no, not again." The song is beautiful and is honestly some of Kevin's best work. Loud drums, synths flying in every direction, and Kevin's voice all mesh together so well. Elephant is about as poppy as the album gets, with a distorted guitar riff and a repetitive vocal delivery from Kevin. The guitar and synth blend together so well during the solo bits with gritty bass hiding in the background and these great breakdowns throughout the song. Nothing That Has Happened So Far... is a monster of a song that goes through many phases but still fits together well. It's probably Kevin's best vocal performance on the album. It's heavy on synths and the heart. The lyrics speak of depression and isolation, with Kevin saying in the first verse, "
For now, I weep, can't get to sleep, I try to hold a good feeling /
I just get one, here it comes, there it goes." and saying in the second chorus, "
Every man is happy until happiness is suddenly a goal." Kevin Parker has not made a bad project yet, and while he has since moved on to more pop and disco-influenced music, this album still holds a soft spot for me because of the rock nature of it. It's Kevin at his peak at every front.
1. Harverd Dropout - Lil Pump
1. To Pimp a Butterfly - Kendrick Lamar
I know I said GKMC was my favorite Kendrick project, but this is without a doubt his best. Another album that is in the vein of IGOR and "Awaken, My Love!" where he ditches standard trap beats for more jazzy and guitar-heavy instrumentals. The album start off with Wesley's Theory which features Thundercat and the legendary George Clinton. Kendrick's first verse shows him in a very braggadocious way, saying, "I'ma buy a brand new Caddy on vogues /
Chunk the hood up, two times, deuce-four /
Platinum on everythin', platinum on weddin' ring." There's a little refrain that Thundercat sings before the chorus comes back in, speaking about a girl that Kendrick was trying to get to, and genuinely loved, but now just has her for sex. There's also a little interlude from Dr. Dre who is giving this cocky Kendrick advice saying, "
remember, anybody can get it /
The hard part is keepin' it, motherf*cker" while Kendrick comes in with a verse of him now. A more educated, more mature Kendrick. The instrumental is groovy as hell. Awesome bassline, fat, 70s inspired drums. Flying Lotus did an incredible job with the production on this song. King Kunta shows Kendrick coming out of the gate swinging, automatically saying, "
I got a bone to pick /
I don't want you monkey-mouth motherf*ckers s
ittin' in my throne again." The song has Kendrick addressing many topics current in rap, including rappers with ghost-writers, and paying your way to the top of the chart. There's an awesome guitar solo at the end of the song too. It sounds like there are four or five different guitars soloing at the same time but they all manage to stay together in time. These Walls is one of my favorite songs on the album. The keyboards and guitar on the song are so calming and the chorus are the big crescendos of synths. The song itself deals with a hilarious topic. Kendrick is getting it on with a girl who is only giving him the time of day because her husband is in jail. u is quite possibly the most emotional song Kendrick has ever written, taking shots at himself and not holding back at all. Calling himself a failure, and even saying that he's the reason why his mom left him. Alright is a song of hope with one of Pharrell's best beats of the past decade. It's a song speaking out against police brutality and the unfair treatment of black people in America. The chorus is catchy as hell with Pharrell singing, "We gon be alright! We gon be alright!" How Much A Dollar Cost has the best storytelling on the album, with Kendrick telling a story of a run-in he had with a homeless man at a gas station asking him for change. It makes him realize that a dollar means so much more to some people than others. He tells the man to beat it but as he tries to leave the gas station, they find themselves staring at each other and Kendrick is filled with guilt. i is the last song I really need to talk about because the album version is incredible. This version shows Kendrick playing the song live in front of his home audience (presumably in Compton). The song itself is great, an awesome guitar lead, popping drums, it's very high in energy. The chorus shows Kendrick proclaiming his love for himself. There's an incredible spoken word outro with Kendrick breaking down the word negus to his audience. Saying that it means royalty and even calling himself "the realest negus alive." So yeah. Everytime I go back to this album, I get more out of it. From the poem tying the album together, to the incredible instrumentals. I can't think of a better album released in the last 10 years. And Kendrick is, in my opinion, the most worthy of this crown.